Kenneth J. Kahn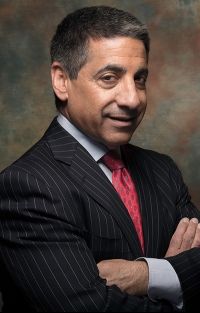 Kenneth J. Kahn has been a California lawyer since 1986. Mr. Kahn knows "the system," and gets excellent results for our clients from his experience on both sides: first as a prosecutor and now as an aggressive and successful criminal defense lawyer.
He was a trial attorney in the Los Angeles County District Attorney's Office for over 15 years, including the Major Narcotics Division, where he handled many wiretap, search, seizure, forfeiture, and informant cases.
Mr. Kahn has successfully completed over 150 court and jury trials including murder cases, "Second or Third Strike" cases, drug trafficking, sales and possession, sex crimes including rape and child abuse, gang and assault cases, conspiracy, burglary, robbery, as well as misdemeanors such as solicitation and prostitution, battery, and driving under the influence of alcohol or drugs ("DUI"). Mr. Kahn is also very experienced in handling fraud, theft, embezzlement, and other white collar business cases.
He is also experienced in alternative sentencing, mental defenses, and other psychological issues as well as the effects of substance abuse on clients and their families.
Mr. Kahn has been an adjunct law school professor, teaching Advanced Criminal Procedure at Southwestern Law School. He practiced business law for several years before becoming a criminal lawyer. Kenneth Kahn knows the ins and outs of Southern California: he is a second generation native Angeleno who grew up in Huntington Park and Long Beach.
Mr. Kahn associated with Stephen G. Rodriguez in 2007. He specializes in all aspects of criminal law from bail and trial court arraignment to appeals where he has successfully argued before the California Court of Appeals.
Bar Admissions
California: All Trial and Appellate Courts
United States District Courts, California Central and Southern Districts
Education
Georgetown University Law Center, Juris Doctor, Washington, D.C., 1985
Georgetown University Business School, M.B.A., Washington, D.C., 1985
U.C.L.A., B.A., History, 1980, with Honors
God Bless you Stephen, wish you all the successes in life.

"Stephen is a great contact and extremely helpful and knowledgeable. I am glad that I was his client in the past. Top lawyer, top man. God Bless you Stephen, wish you all the successes in life."

Don't hesitate to contact them!

"I was referred to this group of Attorneys. I was started with a low cost made arrangements. My case had to do with assault allegations. The case was dismissed they helped me not to loose my daughter to the system."
Contact Our Firm Today
YOUR INITIAL IN-OFFICE CONSULTATION IS FREE – CALL

(213) 481-6811