If you are driving a vehicle on a suspended or revoked license in Los Angeles and are stopped by the police, you can be arrested and thrown in jail and have your vehicle impounded. California Vehicle Code section 14601 makes it a misdemeanor crime to drive when you know that your driver's license is suspended. It is presumed you knew of your license suspension if the DMV sent you a letter informing you of the suspension.
How Can Your Driver's License Be Suspended
Your driver's license can be suspended or revoked by the DMV for the following reasons:
DUI conviction;
Refusal to submit to DUI chemical, blood or urine test after a DUI stop;
Outstanding warrant / Failure to Appear (FTA) in court;
Medical or physical disorder that impedes your driving ability;
Too many points (Habitual Traffic Offender) on your license due to serious driving related violations or accidents;
Reckless driving;
Failure to file a collision report with the DMV after an accident;
Failure to pay a fine or fines for traffic citations;
Failure to pay a civil judgment related to an auto accident;
Failure to maintain car insurance;
Failure to pay court-ordered child support.
Penalties For Driving On A Suspended License
Driving on a suspended or revoked license is a misdemeanor in Los Angeles and comes with the following penalties for first time offenders:
Three years of informal probation;
Court imposed fines; and
County Jail (5 to 180 days).
Future offenses of driving with a suspended or revoked license come with more serious penalties. Being convicted of driving on a suspended or revoked license will add 2 points to your DMV record. It takes only 4 points in a 12 month period to have your California license suspended.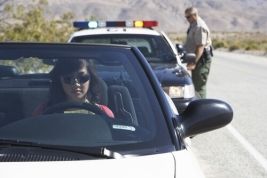 How The Attorneys Can Help You
The lawyers at Stephen G. Rodriguez & Partners have over 75 years of combined criminal law experience and have successfully helped hundreds of clients accused of driving on a suspended license. They understand the legal system and use effective strategies to obtain the best possible results for their clients.

Contact us today for a free, no obligation in-person consultation and find out how we can help you.